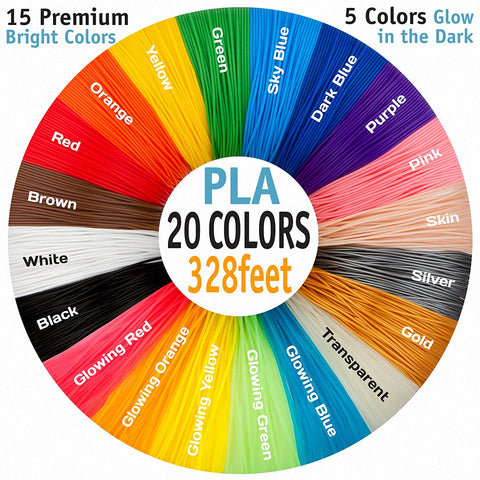 This is a convenient kit for working and storing 3D Printing Pen and Filament Refills.
Due to the compact packaging, you will always have exact color of the PLA Plastic Filament at hand.

Guaranteed Safety: These 1.75mm PLA Filaments are odorless, smokeless and non-toxic. They are also hypoallergenic. You can be assured that you and your family are safe from any harmful, toxic chemicals.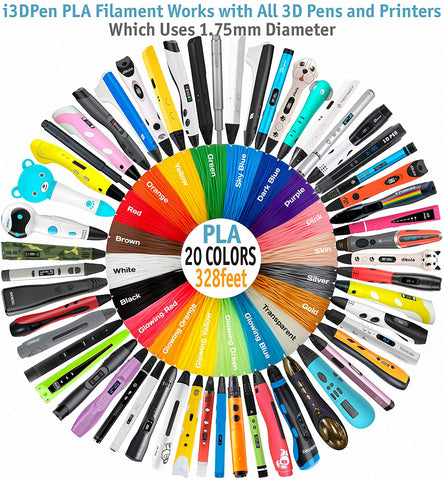 Important:

Please make sure your pen use 1.75 mm diameter of 3d pen filament;
Place Glowing Colors Under the Light or Sunlight for 30 Minutes to Absorb Light.
1: The melting point of high-temperature consumables PLA is 160-200℃---biological materials, corn grain extraction, degradable, environmentally friendly, hard, high strength and rigidity. The surface is bright, the hand feels crisp, and the printing will not warp the edge;
2: Low-temperature consumables PCL melting point temperature is 60-100 ℃ --- polycaprolactone environmentally friendly food-grade material, painting works or defective products can be softened by hot water to become kneaded and shaped handmade raw materials. The printing temperature for unlimited repetitive processing is 80~100℃, which is safe.

Specification:

Material: 100% PLA;
Diameter: 1.75mm;
Bag Packing: 20 rolls;
Color: 15 popular + 5 Glowing (Luminous) colors;
Roll length: 32.8ft (10M);
Total weight:780g;
Total length: 689ft (210M);
Temperature Range: 340°F - 410°F (170°C - 210°C).