Game Battle Wooden Table Hockey Toys
♟【Fun Game for Family】Fast sling puck game.Classic wooden 2 player games are suitable for family, friends, party and social activities, both children and adults.
♟【Easy Rules】Place five pucks of the same color on each side of the board. Both players start at the same time and continue shooting all your balls through the gate until they have all reached your opponent's side. You win!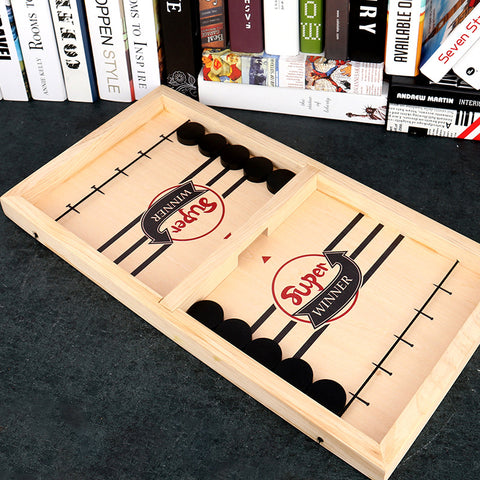 ♟【Premium Solid Wood】The wooden table game toy is made of natural pine wood, including the board and chess pieces, which are more durable and environmentally friendly. You can unplug and enjoy the fast sling game. Large size board provides you with plenty of room for your battle.

♟【Develop Abilities】The finger hockey sling game is a fast paced action game, which improves hand-eye coordination, strengthens fine motor skills while extending your focus.
♟【Great Gift for Kids & Adult】Camping in nature, holiday at the beach, family game night at home, party with friends - the exquisite packaging allows for easy transportation. A nice birthday and holiday gift too. Fun and interactive game can be played one on one or in teams. Boys and girls age 3+ will also love it. Play it anywhere!


Product name: Table hockey fast sling puck game
Material: wooden
Accessories: 10 pieces/20 pieces
Number of players: 2


Gameplay: Each team is divided into 5 pieces. Hold your fingers on the pieces and pull them back with rubber bands. Release your fingers to eject the pieces forward. Aim at the hole and shoot through the hole to the opponent. If you completely occupy the opponent, you can take 3 2 Win system. Proper interaction with parents is an artifact for friends and family to decompress and entertain.