Universal J Hook Type Car Wiper Blade Hook Windscreen Soft Rubber Hybrid Wipers


This product is a single wiper! Single wiper! Single wiper!
You need to purchase the corresponding wiper to replace it according to your original wiper length.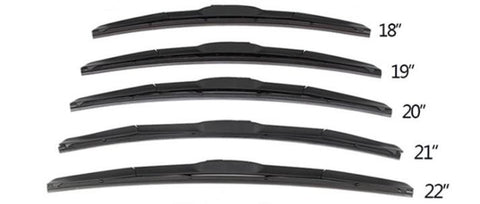 Superior performance in rain & snow.
Conforms to windshield curve. Blade cover is designed to prevent dirt & debris buildup.
Aerodynamic shape eliminates collection of debris around blade.




SIZE:14" 16" 17" 18" 19" 20" 21" 22" 24" 26"
International weper size:
14"=350MM 16"=400MM 18"=450MM 19"=475MM 20"=500MM
21"=525MM 22"=550MM 24"=600MM 26"=650MM


Quality:AAA Grade
( Noted:All about wiper blades have 3 grade:A+ A B Grades )
This wiper is only suitable for J and U hook type wiper arm